Life Insurance Medical Exam
Except for a very small subset of life insurance policies (no exam policies) virtually anyone who applies for a life insurance policy will be required to undergo a medical exam. Obviously, the insurance company wants to make sure they understand your health condition before they price the life insurance policy. As with any time you are under scrutiny (from a job interview to dating), you do yourself a service by putting your best foot forward, but is there anything that you can do to present the best "health profile" during a medical examination for your life insurance policy?
What Are Insurance Providers Actually Looking For?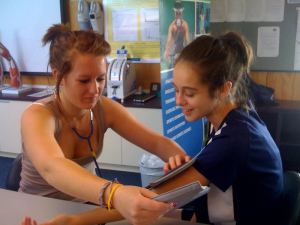 Before looking at any steps that you can take, it is important to understand what the insurers are looking for. The insurance providers are extremely interested in your health because it reflects your life expectancy, which of course directly relates to insurer's expected costs. Any health considerations that increase your chance of dying, or increases the chance that you will die earlier than expected (such as during the term of a term life insurance policy), increases the likelihood of financial cost to the insurer.
As part of the examination, your blood and urine samples will be tested for liver and kidney disorders, blood pressure, nicotine levels, cholesterol, HIV, diabetes, immune disorders, hepatitis, or a prostate specific antigen (PSA). You may also undergo drug testing for certain medications. Obviously, you won't be able to take steps to eliminate hepatitis, but you can certainly take steps to improve some of the measurements, including blood pressure, cholesterol and nicotine. Even minor variations in cholesterol, blood pressure or nicotine levels can have a drastic effect on the price of your policy.
An insurance underwriter will then take a look at both your application and medical exam results and determine what your premium will be. You may be asked for additional information or requested to perform additional medical tests. Unfortunately, if you are severely ill, you will have to look for an insurance provider that offers guaranteed issue life insurance, as your application will most likely be declined.
There are two types of ratings associated with these results: table rating and flat rating. A flat rating is sometimes known as being temporary and may be given in the event of a surgery for a limited time. However, if you have something like high cholesterol, you may receive a table rating, which will increase your premiums until that cholesterol level is lowered.
Tips on Passing a Life Insurance Medical Exam
Improving the results of your life insurance medical examination can range from simple to extreme. Eradication of certain detrimental activities such as smoking or the ingestion of cholesterol-causing food will certainly help to improve the results of your medical examination, but these are obvious. In addition, there are some relatively short-term steps that can be taken to legally improve the results in a matter of days (the sooner you start and the longer you continue the better).
First off, at least one day before the exam (more if you can do it), try to avoid stimulants such as caffeine, tobacco and stress as these all contribute to heightened blood pressure or pulse. Foods that are high in fat and salt can also increase blood pressure and should be avoided where possible (fatty foods also increase cholesterol levels). As hard as it may be, you should also consider fasting for at least 10 hours before the exam. Try not to drink anything except for water. This will improve the cholesterol and glycerin levels in your blood.
Tobacco should be avoided to the extent possible. In addition to increasing blood pressure, nicotine is also an indicator of all of the smoking-related health concerns. Even avoiding smoking for a few hours beforehand can have a significant positive effect on the cost of your policy. While you will still be classified as a smoker (and subject to a higher premium), there are different categories of smokers and a lower nicotine level will improve your rate.
You should also get a good night's sleep beforehand. This will ensure that you are properly relaxed while taking the test so your blood pressure won't be temporarily raised from anything like anxiety.
At least one day before the exam, you should also stay away from any types of pain medication or decongestants. These can include medication like aspirin or ibuprofen. You should also avoid any types of strenuous exercise, as this can cause protein levels in the urine to become elevated.
Besides eating and exercise habits, be sure to come up with a detailed list of all the medications you are currently taking as well as all of your doctor's contact information.
Final Thoughts
While there are longer-term steps that can be taken to improve your overall health, even taking some short-term actions can help ensure that you put your best foot forward during the life insurance medical examination, and take advantage of the lowest rates available to you.
About the Author:
This was written by David Nance for the team at http://www.online-medicalassistantprograms.com. Be sure to contact them in the future to take advantage of their educational opportunities.
See Also:
Term or Whole Life Insurance- Whats The Right Option for You?
Making a Decision: Individual or Group Life Insurance Policies?
The Top 5 Health Insurance Companies
Group Health Insurance Policies