Homeowner's Insurance
When you decide to renovate, you need to take into account how the renovation might affect your homeowner's policy. Each situation is different, and you will want to review your individual policy to ensure that the changes will be covered. However, there are some common ways that homeowner policies and insurance plan might be affected by renovations.
Most people don't even think of contacting their homeowner's insurance company when working on a renovation project, but it is important to stay in contact with your company about what you are doing to the home that might increase its value or risk profile. This is important because your homeowners insurance premium (and coverage) was calculated using the value of your home when the plan was created. Some renovations might increase the value of your home, and subsequently might also increase your insurance premium.
Changes May Not be Fully Covered by Current Homeowner's Insurance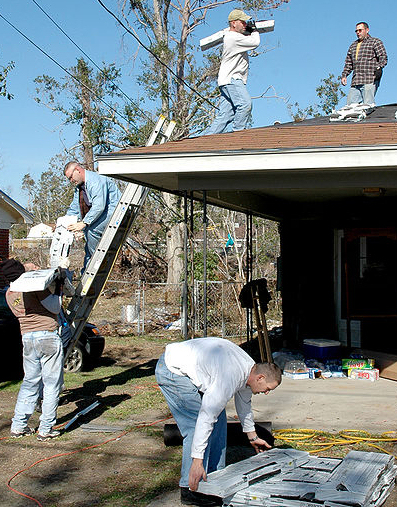 On the other hand, while renovating, you may be adding something that your homeowners plan does not cover such as a built-in swimming pool. It is important to check with your insurance company to see if they will cover the liability for the changes you are making (usually at an extra fee). If you are building onto your house especially, you will want to check with your coverage to see if you will need to make an updated plan or change insurance companies. It would be bad news to discover after an incident that your aren't properly covered.
Many insurance companies will prorate your insurance coverage based on the previous premiums. This could result in a significant loss after spending all that money (or taking out Loans)  for renovation. So when planning a renovation be sure to account for any additional increases in insurance in the cost of the renovation.
Homeowner's Insurance Warning Signs
If your renovations require extensive months of construction, or if you will need to leave your home while the renovations are occurring, as in the case of major reconstruction and refurbishments, you might even have to file for insurance as a different classification. For example, when you initially bought your homeowners insurance, it was probably assumed that someone, whether you or your family members, will be living inside the home. If you have tenatants the coverage may need to be modified.
If you have to move out for a period of time, you may need to file for classification as a vacant building to get full insurance coverage. For large construction projects, it may be necessary to work on the project with the classification of a building that is under construction, rather than a family home. With both of these new classifications, it is possible that your premium will go up. In vacated homes and buildings under construction, there are more break-ins, more accidents, and hence higher liability for the insurance company.
Many people do not want to contact their insurance company when doing home renovations for fear that their premiums will go up. This is a valid concern, because premiums frequently do go up during renovations. However, at the same time, if you don't communicate with the insurer, there may be a gap in coverage, and it's possible that you as the homeowner will end up paying out of pocket for anything that goes wrong during the renovation process.
Although you will likely end up paying a higher premium during (and after) extensive refurbishing, it's important to check with your provider to understand how renovation will affect your specific policy. If you don't check, you might be building something that's not covered, and if an accident does occur, you won't be fully covered, which would end up costing much more in the long run.
Editor's Note:
Compare Homeowner's Insurance Policies
Just like with life insurance policies it pays to get quotes frequently or at least when you are making major changes to your home. Before talking to your current insurance company be prepared with a few comparison quotes so you will be armed with enough data to negotiate the best deal.
You may also like: