A lack of mobility can be a serious problem for many, whether it be through old age or disabilities. This is more important in your own home, where the inability to move comfortably around can be very distressing.
Furthermore, you might also consider any solutions to be over expensive, yet this doesn't need to be the case when you consider the addition of a home lift.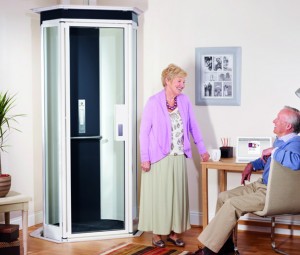 From the financial aspects to the practical benefits, these pointers should help shed some better light on home lifts. If you're looking for a reliable way to make your home more accessible for those with mobility problems, this should help show you the benefits of a home lift in your home.
The Benefits
The obvious benefit of a home lift is that it allows you to move between floors. Many people find this a difficult task, as old age and disabilities make it painful and uncomfortable, if not impossible entirely. As such, the lift provides a safe and painless way to move up and down floors whenever you want.
This, in turn, also has other effects that might not have been considered. Whether you live on your own or not, being able to move around by yourself is very important to your confidence, in addition to the generally improved sense of freedom, independence and mobility.
A Practical and Financial Option
If you're having trouble moving around your home, than a homelift is definitely a practical option. It allows you to easily and effectively move between floors in your home.
This is certainly practical when given the other alternatives. There really isn't any other way to cope with this issue; so many people would previously consider moving home. Downsizing may sound like a good idea, but it's very expensive and involves a lot of work. Besides from this, why should you have to move home? With a home lift, you can easily maintain your current lifestyle and regain a sense of freedom and mobility within your own residence.
Wheelchair Friendly
Unlike stairlifts, a home lift has the added benefit of being accessible for wheelchairs. These wheelchair friendly designs allow people to move between floors without getting out of the chair, something that can be uncomfortable and painful at times.
This is crucial because not everyone can leave their wheelchair easily. Where as a stairlift would require you to move out of the chair, a home lift simply allows you to move with it.
Property Values
Furthermore, the addition of a home lift makes minimal changes to the physical structure of the home. Whilst the lifts themselves are very discrete and small additions to any home, they none the less connect rooms together through new openings in the floor.
This can be easy to repair if you ever want to sell the house, but the addition of a home lift can also improve the home's value. Not being able to walk or use the stairs is a common ailment and condition in many people; the addition of a home lift already built into a house is an added bonus for many.
NOTE FROM EDITOR: American buyers can search  for "home elevators" to find similar products in their market.