Although the recent state of the economy has put pressure on many families and households, it is still possible to enjoy spending time with one another regardless of your budget. When you are thinking of planning a family trip or a getaway with your family on a budget, traveling is possible by doing a bit of research to compare local destinations and places to enjoy sightseeing while spending time together.
Consider Your Budget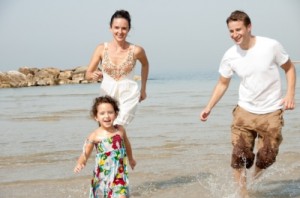 Before you begin to travel, consider the budget you have available and the destination you have in mind. Additionally, it is important to consider the amount of time you are planning to spend traveling versus household bills and mortgages that may also be due while you are out of town. Traveling on a budget can also be done by taking a drive to a local hotel or simply going out of town, depending on how strapped for cash you are at the time of your vacation plans.
Booking in Advance
If you still plan to fly when you are traveling, it is important to book your airfare as far in advance as possible to save money and to purchase tickets at a discounted rate. It is also possible to save money on airfare by calling the airline directly to ask for a discount in addition to also booking within a few hours or within days of your flight. Last minute flights are recommended if you are traveling solo on a budget, as many seats that are available with last minute flights have been given up or sold back to the airline.
Comparing Online Offers
Although you have the option of booking travel through a traditional local travel agency, you may have the ability to save even more when you choose to book from home, online. Without agency fees and limited packages, you have the option to compare round trip ticket prices, connecting flight options and even packages that include transportation and lodging depending on where you are planning to travel. Flexibility always saves you money.  If you don't have a specific destination, and just want to get away with the family, it may be a good idea to check what destinations online travel companies have the best deals on and consider those. On many sites you can sign up for notifications of specials. For example,  you might be notified of extremely cheap Denver hotels on Expedia.com, so then you would look into the area and see if it's something your family might enjoy.
Comparing and booking your trip options online is a way to ensure you are able to include all of the travel plans you have in mind without feeling limited. Choosing to book your lodging, airfare and transportation altogether may help you to save money by creating a personalized package deal. Many of the online services like Travelocity and Expedia actually buy tickets in bulk from the airlines and then will mix and match connections to get you to your destination but they may not be the same connections that are available directly from the airline. This is because airlines have layover restrictions that the online booking companies don't always observe. So buying them may save money but require you to stay in an airport for 12 hours waiting for your next flight.
You can also research hotels, entertainment venues and restaurants you may want to travel to that are located near you or just a few cities outside of your current location. Staying in-state and avoiding the cost of airfare can drastically cut costs on the overall amount you will be spending on travel. Call hotels directly to ask for discounts and incentives to stay with them to help save even more money depending on where you are traveling.
If you are considering a cruise it is possible to do so on a budget because all expenses like travel, meals and room (except tips and excursion fees) are included. So if you book at the last minute through a company like Vacations to Go you can often find a good deal. Recently they had a 4 day cruise from Miami to the Bahama's for only $179 per person (two to a cabin) for a cruise regularly priced at $799 per person. Remember you would still need to get to the port, and pay for parking etc. (Parking at the Miami Port is $20/day but most cruise lines offer free shuttle from the airport.  But even with the extras you couldn't even find a decent hotel for four days let alone eat and travel. The key is to be flexible in your travel plans and keep an eye on their "Bargains" and "90 Day Deals". You can sign up for their newsletter to get regular notification of deals.
Planning Your Meals
Planning your meals ahead of time can help you to stay within any budget you have set when you are traveling. Taking your own food in a cooler is ideal if you are planning to drive to a location where you are vacationing. You can also plan to purchase your own food upon arrival at your travel destination to cook for yourself, ultimately saving more than dining out for each meal while you are not at home. Research grocery chain prices and average food prices based on where you plan to visit before you leave to overestimate the amount of money you should have readily available to spend on food.
Image courtesy of photostock / FreeDigitalPhotos.net
Check Out:
Resources from Amazon: