Providing money to a charity is one of the best ways to give back to your community and to support a cause that you believe in. Still, you have to be smart and you have to choose charities carefully.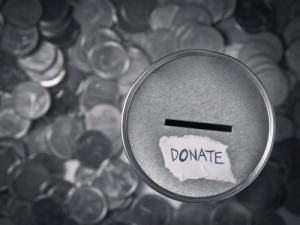 Some organizations utilize donations more efficiently than others. Unfortunately, a number of scams exist in the realm of charity donations. Giving money to charities in a smart way means always doing a background check.
Try to Ignore the Emotional Factor
We are approached by charities in need of donation on a regular basis. Some representatives are more insistent than others and capable of striking an emotional chord.
Be very careful about donation decisions that you take solely on the basis of emotions. Ignoring the emotional factor is exceptionally difficult to achieve but you otherwise risk making an inadequate decision.
You cannot be pressured into giving money. Tell the representative that you need some time and that you will be getting back in touch. Use the time to research the cause.
Choose Reputable Charities
Some charity organizations have a better reputation than others. Transparency is of key importance when you are deciding about donations.
Always choose reputable charities. Well-established charities have a proven record of donation utilization for the right purpose. You will also get to see what the money went for and what campaigns the organization carried out.
Charities are obliged to provide potential donors with detailed information about their structure and activities. Demand this information, even if you feel embarrassed about it. There is nothing wrong with finding out where your money will go.
Always do Your Preliminary Investigation
Start your research at a charity organization's official website. It should provide detailed information about activities, the manner in which donations are spent and the ways in which you could contribute.
Finding a legitimate website is of uttermost importance, if you plan to do an online donation. The website should have all of the security certificates that will help you make a safe payment.
You should also ask about the way in which your money is going to be spent. Charities are obliged to provide this kind of information. Ideally, 60 percent of your donation should be used for the charity itself. Approximately 40 percent of the sum goes to administrative proceedings and fundraising. Stay away from charities that dedicate a large percentage of the donations to promotions, telemarketing and other similar activities.
Keep Records of the Donations You Make
Always keep record of the donations you make. Such records will be very important for taxation purposes.
Refrain from giving cash to charities. A check is the best option for record purposes. A receipt or a printed copy of the donation is necessary. You can use such evidence of donation for tax documents, in case you gave less than 250 dollars.
If you donate more than 250 dollars, you will need an official receipt from the charity, in order to benefit from a tax deduction.
Stay Away from Shady Organizations
Even the smartest of people fall victims to shady organizations. This is why research can be determining for your financial wellbeing and the security of your personal data. Certain types of "charity organizations" have to be avoided.
Refrain from giving money to charities that contact you via e-mail, telephone or social networks. Some of them could be legitimate but the risk is too big. A charity organization that has no official website should be avoided, as well.
Be very careful about charity organization representatives that go door to door. Even if these people provide some evidence of legitimacy, you should maintain a healthy degree of skepticism. The best thing you can do is donate directly to an organization after researching it. Door to door donation collection will pressure you into taking some irrational decision that you will regret later on.
In case you feel strongly about a particular charity, you can use professional services to establish its legitimacy. Visit Forths to find out more about financial investigations and the ways that they can keep you safe from scams and fraud schemes.
Giving to charities will make you feel great and it will give you a chance to support a cause that you strongly believe in. The practical aspect of the process is very important. Research the organization and make sure that your donation will be used in an efficient manner.
See Also
Resources:
Guest Post written by Nick Anderson who is a Marketing Executive at Forths Forensic Accountants.
Image courtesy of winnond / FreeDigitalPhotos.net