Although you may understand your homeowner's insurance, vacation property carries with it different risks that you need to understand. First of all, you're not living in your vacation home year-round so there are vacancy and possibly tenant related risks. And even if you do spend a considerable amount of time there, vacation homes are often outfitted or even built differently than traditional homes since they're seasonal.
How Is Your Home Used?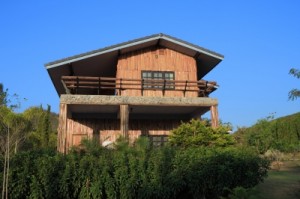 Most people only stay at their vacation home for part of the year. Renting out your home when you aren't using it, makes it easier to pay the mortgage on it, but it also introduces a special kind of liability. Since you can't stay at the home all the time, you decide to rent it out to help cover the mortgage payments (or possibly make all of the mortgage payments). But, suppose the people you rent it to accidentally start a grease fire while cooking dinner, or the kids flush their teddy bear, which backs up the septic system? What if someone robs the place while the tenants are home? What happens? Are you liable for their safety or their lost possessions?
This is why you need special insurance coverage for your vacation property.
Coverage Options
Buying house insurance on a vacation home in Canada is just like buying insurance for a primary residence but it may differ from coverage in the U.S., the major difference is in the types of coverage you can buy (and sometimes, must buy). With most insurers in Canada, you can only insure the vacation home if you also insure your primary residence with them.
You'll list your vacation home as a "secondary home" or a "seasonal home," and the property will have a separate policy. Unlike traditional homeowner's insurance, a vacation home's policy will almost always be a "named perils" type policy. This means that you're only covered for specific risks like "fire," "theft," "smoke," "explosions," and "vandalism." Each peril must be specifically named in the policy for you to be protected against that risk. For example, if the vacation home catches fire, the policy must specifically cover fire damage. If there's a flood, it must cover flood damage. Suppose there's a fire, but most of the damage is caused by an explosion. Guess what? Unless you have insurance for explosions, the insurer won't cover that damage.
On top of named perils, there are some exclusions common on almost every vacation home. These include cover for sewer backup and damage to fences, outdoor plants and landscaping, loss of food in a freezer if the electricity goes out, damage to trees and shrubs, and damage or loss of garden equipment.
Liability Coverage
To protect yourself when you rent the place out, you must have third-party liability coverage. This will protect you if someone gets hurt on your property or if you or your tenant starts a fire that spreads to a neighboring property.
Contents Coverage
Finally, make sure you get contents coverage. It will cover everything in the home. Get coverage for detached private structures like garages or sheds or beach houses. And don't forget to specify replacement cost on the insurance policy. Most agents will include this automatically. Some won't. Replacement cost covers the actual replacement cost for anything that's covered. The alternative is called "cash value," which depreciates your home and its contents, leaving you with less protection and compensation for damages. For example, a 10 year old refrigerator that cost $1000 new might only be covered for a couple of hundred dollars once depreciated.
If you have the proper insurance coverage you can relax and enjoy your vacation.
See Also:
Image courtesy of Keerati / FreeDigitalPhotos.net.