Organizing a yard sale is one thing, but holding a successful one is another thing. One essential factor in having a successful yard sale is attracting buyers. The main thing is the advertising methods you use to get people know about your event. This is one of the most important factors that can make or even break your yard sale.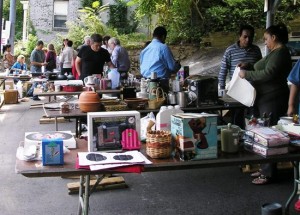 There are many options you can use to advertise your Yard Sale and you should pay special attention to advertising to make as many people as possible aware of it through all available sources including… advertising in local newspapers and classifieds, through big banners and posters or using social networking sites for online advertisements.
Here are some tips to help make your yard sale successful:
Local newspapers and classifieds: Post advertisements about your event in local newspapers and also through classified sections. This should be done a week before the event is scheduled.
Big banners and posters :Attract people and passerby through banners and posters. Make your banners attractive and big so that those passersby who don't know about your yard sale can read it easily. The posters designed should be attractive and visible enough that someone can read it while passing by. Place banners and posters surrounding your area so that people in the neighborhood will be attracted to visit your yard sale.
Use social networking sites for advertisements: Social networking sites are a good free source to advertise your yard sale. This will notify your friends and their friends who will probably be curious about what you are selling and want to come and check it out. Also since they are friends (or even friends of friends) they may have similar interests and be especially interested in your stuff. You just need to post some attractive posts,  status updates or tweets on those sites that can attract these people.
Don't forget Craig's List: Most people who look at Craig's list are looking for specific items but some are "professional" yard sale shoppers or at least avid hobbyists who are constantly looking for bargains… so they may be willing to travel quite a distance to see what you have to offer.
eBay: High priced or unique items like collectables may get a higher price on eBay where you have the much larger potential audience and so rather than getting rid of that one of a kind Star Wars poster for a couple of dollars you might find a collector willing to pay hundreds.  Of course selling on eBay requires more work taking a picture, and writing a description and then shipping… but it may be worth it for certain items.
See Also:
Resources: