I am a strong believer in travel as a form of education. Meeting people, experiencing different cultures, visiting museums and historical places does more for children's education than sitting in a stuffy classroom ever will. ~Tim McMahon, editor
Open Your Children's Eyes With A Vacation Abroad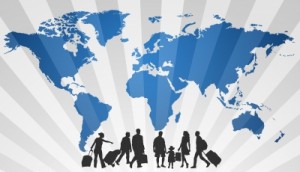 Although the various forms of mass media teach children from the United States that there are vast differences between their culture and that in other countries, the best way for them to truly appreciate those differences is by traveling abroad. Many children in the U.S. do not realize that lifestyles in other countries differ so greatly from their own lives. Furthermore, they cannot completely understand the nature of these other cultures without experiencing it firsthand.
Benefits of Traveling Abroad
Traveling to a foreign country can significantly benefit U.S. children. A child's learning opportunities are always enhanced when they study through direct contact and experience. Research shows that when young people discover through an experience, they are more likely to retain the information. Therefore, traveling to another nation will better educate children than would a book about the culture in that country.
Vacationing abroad also forces children to step out of their comfort zones and try new things. The types of food and the style of clothes may be entirely different from that in the U.S., so when traveling, children will be encouraged to adventure beyond what is comfortable to them and try something new. In addition, when children's eyes are opened to a new culture, they gain a higher appreciation for the luxuries and blessings of life in the United States. Many times, when visiting a more disadvantaged nation, U.S. youth quickly recognize how fortunate they are to live in a wealthier nation. Additionally, they may develop a deeper awareness of and gratitude for the freedoms entitled to U.S. citizens.
Checklist for Traveling Abroad with Children
Critics suggest that traveling abroad with young people is difficult and sometimes incredibly frustrating. However, when parents take the appropriate precautions, vacationing in a foreign country can be quite rewarding for both parents and children. The first priority is securing the necessary paperwork for foreign travel and making the appropriate travel arrangements. All travelers, including children of all ages, require a passport. Passports can take up to three months to complete processing and delivery, so parents must submit these applications in a timely manner in order to avoid potential setbacks.
Long flights often cause a large amount of stress on parents because youngsters become bored and agitated after the initial excitement of flying wears off. Parents can make the flight more comfortable for their little ones by being properly prepared. Parents should attempt to fly late in the evening or at night when children are already tired and will likely fall asleep, and they should pack some activities to occupy the kids during flight. Finally, for the best experience, parents should talk to their children about the country they will be visiting. All people, young and old, feel more comfortable when they have a general familiarity about what they are about to encounter.
Financial Constraints and Budgeting Tips
Travel to a foreign nation can be quite expensive, but being prepared and following some simple budgeting and finance tips can lighten the strain on a wallet. Flights and hotel accommodations will likely be the biggest expenditures, but a thrifty traveler can reduce these costs by thoroughly researching to find cheaper rates. Typically, flights during the week instead of on weekends are less expensive, and flights with more stops will also be cheaper. Sometimes package deals that combine hotel with flight can reduce costs, but stretching pennies farther takes time and research to find the best deals.
Food can be another huge expense, but there are ways to minimize these costs also. Part of the experience of foreign travel is trying the native cuisine, so families will want to budget for restaurants for some meals. However, travelers on a tight budget should plan to purchase some food from the local grocery store for lighter meals and snacks.
Other ways to cut costs are to stay in hostels, travel to low cost countries like those in South East Asia, and to a lesser extent Central and South America. If you are willing to live more like the natives rather than staying in fancy hotels you can drastically reduce costs as well as by traveling by bus rather than renting a car.
Traveling abroad with the family comes with the potential for problems, but people who are properly prepared for such travel are more likely to have a positive, incident-free vacation. By following the guidelines above, travelers can ensure that their trip is more enjoyable, especially for the youngest members of the group. When families make the appropriate arrangements for their vacation abroad, it will be a gratifying experience for everyone, and one that is well worth the time and effort.
You might also like:
Image courtesy of Idea go / FreeDigitalPhotos.net.