Today's guest post comes from Jennifer Miller the author of The Edventure Project. Her family travels the world while educating the children.  I love reading about their adventures and lest you think they are neglecting  the children's education their oldest daughter Hannah is 17 1/2 and is in her second year of online classes at Oregon State University in addition to doing freelance writing, editing, and interviews. ~Tim McMahon, editor
'Tis the season to buy stuff, right?
by Jennifer Miller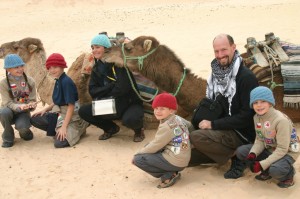 I've been asked several times in the past month "what we do about Christmas" and what we recommend giving as gifts to travelers. I've been disgusted by the advertising based commercial push towards loading up on crap that ends up in landfills.
And then, I find this quote on p. 8 of the December issue of Real Simple magazine:
A homeade gift says more than a store-bought gift. It says you care enough to invest your time and skill in it. It says this is a personal gift, not a generic one. It says you need a bigger allowance." Calvin & Hobbes, by Bill Watterson.
It's a joke. I get it. Ha ha. It's not funny.
Then, I did a little research on what the average American spends on Christmas. Projected expenditures from 2013: $854. The average parent is spending $271 per child. So for us, that appears to break down to $1084 on just our kids, and perhaps as much as another $1708 on gifts for each other, friends, family, co-workers, etc. $2791 on stuff. In one month.
Not so much.
For those of you wondering how we afford to travel long term: this is part of it. $3000 would last us a very comfortable month or more in many of the places we love. It would also be a very fantastic week of real vacation booked through Thomas Cook to a place we haven't been yet!
What do we do for Christmas: experiences. What do we give as gifts: memories.
I was talking to my brother, Muywa, when we were in Edmonton. His kids were laughing so hard and interrupting every five seconds to add to the story he was telling: last year for Christmas, he gave them Australia. They opened their presents and the last one was a photo, of Sydney. They boarded a flight five hours later and spent the next two weeks down under. Best. Surprise. Ever.
That got me thinking about what a great gift travel is, even for people like us who travel for a living. I would much rather spend the big bucks on an epic adventure that we remember for a lifetime than on a pile of sweaters and electronic gadgets that will be broken or forgotten in a matter of months. Why not spend the money on something that will deepen relationships, build memories, and create common ground in addition to expanding your mind and is educational?
This year, our Christmas gift to our kids and others is our presence. Airfare back to North America, a long road trip across the continent dotted with friends and family. There will be a few packages to open on Christmas morning, but the real gifts, the valuable gifts are the people and the memories: a theater production with Grandparents, a movie night with godparents, and the time to travel in between.
Last year we gave orangutan and bat cave adventures in Borneo. We've ridden camels for Christmas in Tunisia and gone cliff diving in Guatemala on Christmas Day. We've flown to Mexico as a family and escaped to Iceland for a long weekend for Valentine's Day. We've ridden elephants in Thailand, had a special dress made in Vietnam and visited Angkor Wat for birthdays. We've celebrated anniversaries with motorcycle trips across Maritime Canada, luxury vacations in Hawaii, and wet tents in the UK.
Family vacations are a fantastic gifts to give and a memorable way to mark a milestone or celebrate a holiday. They don't require wrapping and they're one gift that will continue to give joy for a lifetime.
Looking for some ideas? Thomas Cook has a whole list of winter getaways priced for families to get your juices flowing. Since we're headed to Europe in the spring, I'm salivating a bit over a couple of their Greek packages. It's a country we want to visit but just keep missing one way or another, and our anniversary is coming!
You might also enjoy: