Raising money for a start-up or a small business can be hard. Banks and other traditional sources of finance can be very difficult for untested entrepreneurs to tap. Small businesses then, need financing avenues to turn to that are not as risk-averse as traditional ones. Fortunately, the modern business funding landscape offers a few innovative possibilities.
Crowdfunding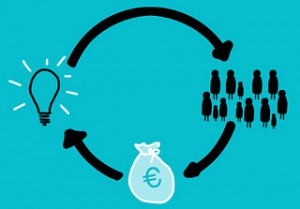 Traditionally, entrepreneurs looking for funding for a business idea have always approached a small number of investors with large resources – banks, angel investors, venture capitalists and so on. They have only been able to tap a large number of investors once they've demonstrated enough success to launch an IPO. Crowdfunding–also known as crowdsourcing–is a business financing plan that puts an IPO of sorts into the hands of start-up entrepreneurs. If you have a promising start-up idea, you can simply go to a crowdfunding site on the Internet, talk your idea up and attract hundreds or thousands of informal investors with tiny investments – perhaps £20 or $20 each. If your idea has public, emotional appeal, there's almost no limit to the amount of investment that you can attract.
Crowdfunding investors are informal ones – the law has no protections in place yet to help guarantee the investments that people make in crowdfunded ventures. The main idea behind crowdfunding, though, is that with the small sums involved, even bad investments don't end in serious losses for anyone. If you're serious about crowdfunding, you should look up the UK Crowdfunding Association for ideas and guidance.
Crowdfunding is a great way to get investors behind unconventional ideas that traditional financing destinations wouldn't welcome. Getting a crowdfunded project off the ground, though, does require time and effort. If you need financing in very little time, you have your choice of the following methods.
Credit Cards
Many start-up owners have used their credit cards with great success – none more than Cisco, a world leader in networking equipment and once the world's largest corporation with a market capitalization of half-trillion dollars. This company got its start on the credit cards of its founders, husband-and-wife team Leonard Bosack and Sandy Lerner.  Financing a new business idea through maxing out your credit cards can be viable if you're careful about it. A good personal credit card can offer as much as a $25,000 line of credit; small business credit cards go as high as $50,000.
Since credit cards come with extremely high interest rates, though, you can quickly end up owing more than the principal that you borrow. It's important that you work out a detailed repayment plan before you start down the credit card route to financing your start-up. You may need to work out every angle possible to cut back on both business and personal expenses. Finding a cheaper energy deal and looking for cheap business premises can greatly reduce expenses. Many successful businesses including Apple, Amazon and Google started in a garage.  Other major considerations are labor and materials, so if you are providing much of the labor yourself that will reduce expenses, plus careful cost control on materials expenses will be critical.
A loan on Your Assets
If you seriously start considering a loan against your home you'll find out how confident you really are about your idea. If the thought of risking your home for your business fills you with dread, you might want to reconsider your business plan. You need to be aware of the risks – if you fail to make your payments, the bank could take your home or other asset. And if your business is in your garage you not only will be homeless but out of business as well.
See Also:
Resources:
Image courtesy of Rocío Lara on Flickr