This being prime vacation season I thought I'd tell you a bit about my vacation. On Monday I set out from Virginia on my way to a week on the coast of South Carolina. Fortunately for us the sharks are hanging out a few hundred miles North of here. The weather is beautiful and the water is warm and inviting.
But like most tourist areas it seems that everything is designed to separate the hapless traveler from his hard earned money. But being a die-hard "frugalista" I've worked out a system to keep my money where it belongs i.e. in MY pocket.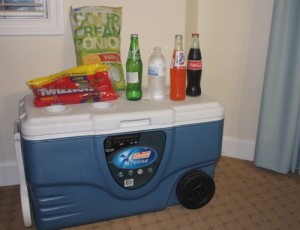 First of all, before we left home we visited our local Walmart and Sam's. While there, we stocked up on snacks for the trip, bottles of soda for the cooler and a couple of Nautica Beach chairs. So rather than paying $1.50 for a package of NABS or a 1 oz bag of chips I spent pennies on the dollar and all I had to do was turn around and grab one while driving rather than stopping.
We also checked out the trip planner on the GasBuddy website. This reminded us to avoid getting gas in North Carolina where gas taxes are higher and saved us about $0.40/gallon by telling us exactly where to get the cheapest gas once we crossed into South Carolina.
We also were able to save time and money by making a quick pit-stop at Mickey D's and getting our meal "To Go". That way, we didn't need to buy one of the highest mark-up items on their menu (i.e. soft-drinks) we just grabbed a cold one from the cooler in the back seat. And we were ready to hit the road again.
Before we entered tourist country we stopped and stocked up on food at another Walmart so that we could could use the kitchen at the beach house to greatest advantage without having to buy groceries at tourist prices.
Once we arrived, the value of the Nautica Beach Chairs became evident. We payed about $30 each for two chairs at Sam's and noticed that the suckers local tourists were renting two chairs and an umbrella for $20 per day! That means that renting them for a week would have cost us $140 and we would have nothing to show for it at the end of the week other than our new beautiful tans!  So we saved $80 this vacation alone! And we will be able to continue saving for years to come.
But I must be getting dumber in my old age, or the sun was baking my brain, because the chairs clearly said they were 5 position chairs and the first day all we could see was how to use them in the fully upright position. So when I got back to the beach house I jumped online and searched for "How to recline the Nautica Beach Chair" but I couldn't find anything!
So the next day before going out to the beach I took a closer look at the chairs and discovered the simple solution to reclining the Nautica Beach Chair. So now I will let you in on the secret.
How to recline the Nautica Beach Chair
The first day I was stuck in this position.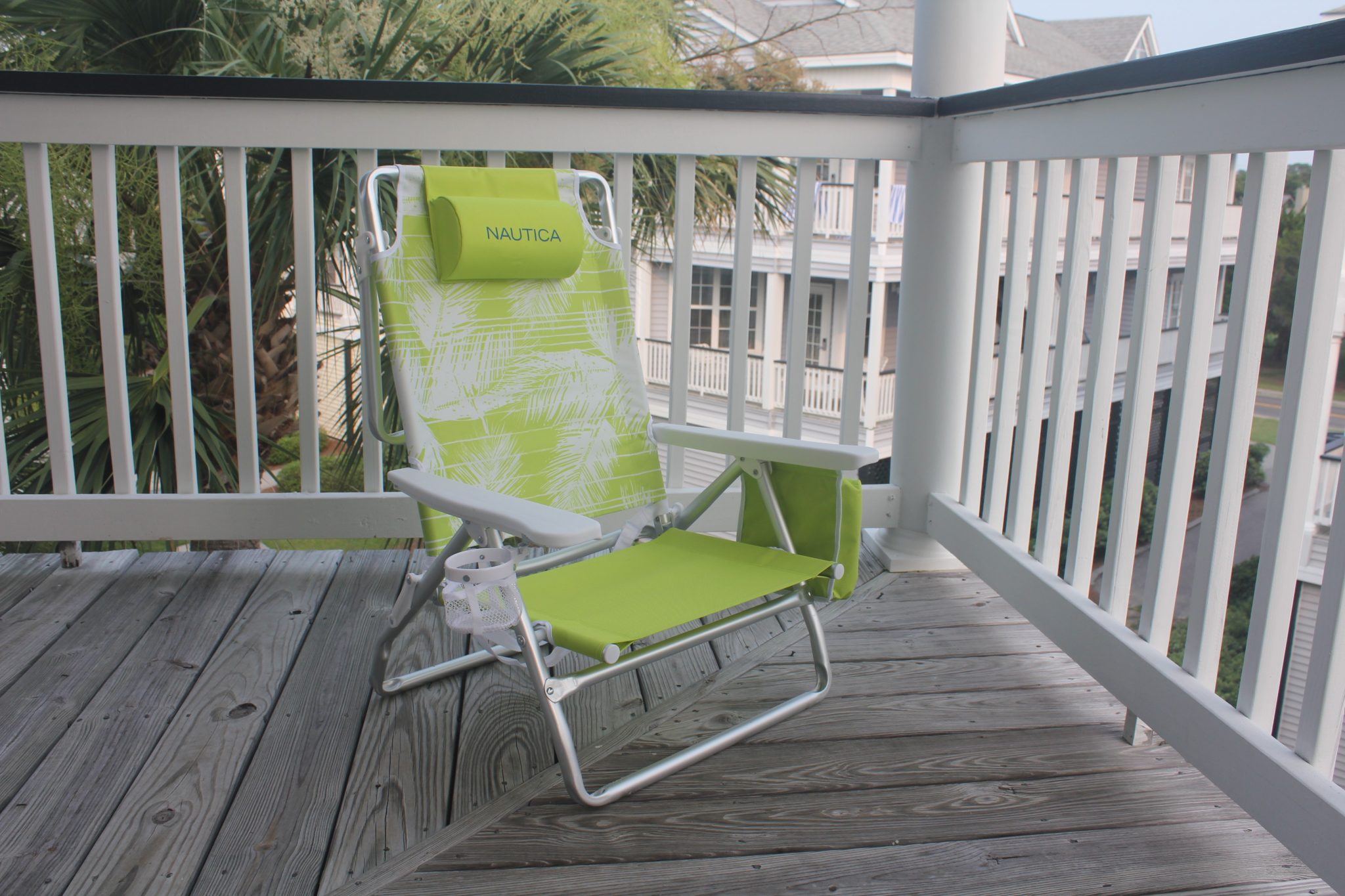 The key is that under the arms there are little notches so by simply lifting up on the arms like all the old style chairs you can choose any one of the five positions. Duh!
Of course, if you want to go to the fully reclined position you should latch the third set of legs down so you don't land on your head.
The 5 Positions of the Nautica Beach Chair
In addition to the upright position shown above the chair adjusts to the following positions.
| | |
| --- | --- |
| Upright | Relaxed |
| Very Relaxed | Laid Back |
| Fully Reclined | Attached Mini-cooler |
One other neat thing about this chair is the integrated cup holder and the little mini cooler to keep some of those snacks I brought along cool.
How to Fold Up the Nautica Beach Chair
It is really easy to fold up the chair, just turn it upside down and squeeze the legs together.
Saving Money on Vacation
So there are many ways you can stick to your budget even while on vacation with a little planning. Save money on Gas, Snacks, Food, and recreation items.
You May Also Like: