Recently "The Money Source" decided to mine their  database of home loan applications and choose their top 10 cities for first time home buyers. Of course every list like this is somewhat subjective and depends a lot on what criteria they used for their decisions. But when it comes to first time home buyers obviously low cost real estate is going to be a major priority. Another key factor will be a healthy local economy that provides plentiful job opportunities. But in addition to just financial factors choosing a location to relocate to also involves ascetics i.e things to do, places to go, and people to see.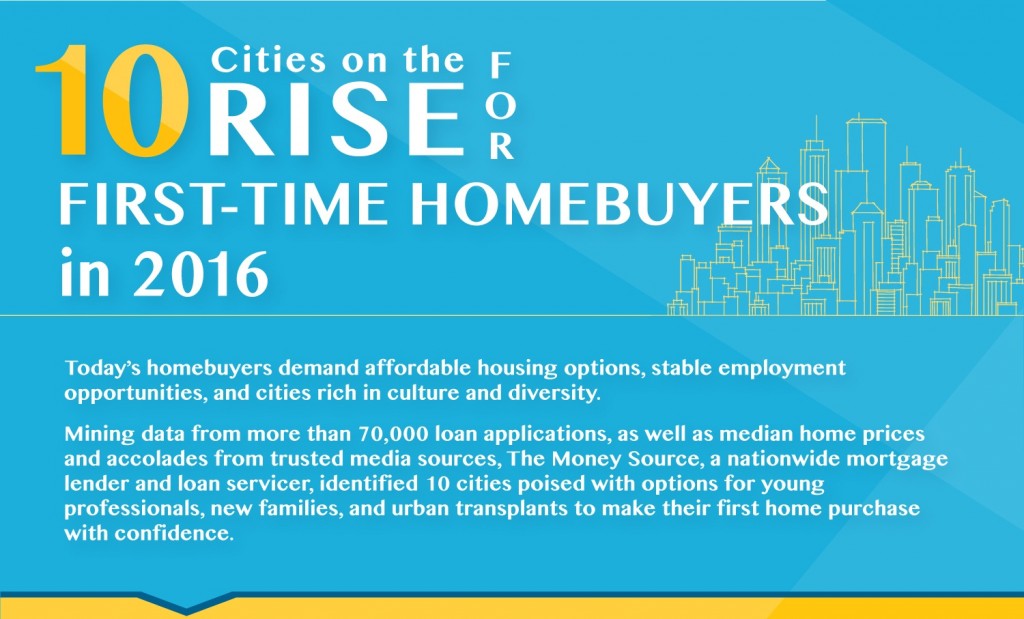 Interestingly, many of the factors that apply to first time home buyers also apply to retirees. Often retirees are looking to "down-size" and want to find an affordable smaller home, so real estate prices are important. And if you are currently in a "hot" real estate market selling and moving to a less expensive locale can free up equity that can supplement your retirement funds.
Although they are no longer in the full-time job market they may be interested in supplementing their income and a healthy local economy will provide more opportunities than a stagnant one would. Plus a healthy economy results in lower crime rates and a nicer living environment. Retirees have more free time so having interesting things to do in the area is also important. One thing that may be more of a factor to retirees than first time home buyers is good weather but many of the cities on the list have good weather as well.
So lets look at the Top 10:
Number 1- Orlando, Florida:

Since their flagship resort opened on October 1, 1971 Disney has made a major impact on the economy of Orlando. Not only via attracting tourist dollars to the area but also attracting other resorts as well. With median home prices around $155,500 housing is inexpensive and there is lots of things to do and a healthy job atmosphere and if you move to Orlando you won't ever be lonely because all your friends and relatives will want to come to visit.
Number 2- Des Moines, IA
After the excitement of Orlando, how can anyone think Des Moines would be #2 ? Well, currently the median home price in Des Moines is almost 27% lower than already inexpensive Orlando!
So housing is definitely affordable. Add to that a healthy business environment, the state Capital, and lots of things to do like the Botanical Garden, and the East Village which is located on the east side of the Des Moines River. It begins at the river and extends about five blocks east to the State Capitol Building, offering an eclectic blend of historic buildings, hip eateries, boutiques, art galleries, and a wide variety of other retail establishments. Des Moines also offers living history farms and even an amusement park.
Number 3- Baton Rouge, LA

Once again Baton Rouge is the Capital City of Louisiana and so it provides many opportunities. Baton Rouge is a major industrial, petrochemical, medical, research, motion picture, and growing technology center of the American South.  Baton Rouge has an expanding visual arts scene, centered downtown. This increasing collection of venues includes the Shaw Center for the Arts, the Louisiana Art and Science Museum, and the Baton Rouge Gallery. If you enjoy architecture, there are many plantation homes in the area. College football is a major event with locals cheering for LSU.  And the Baton Rouge Zoo includes 1800+ species.
Number 4- Tulsa, OK
Tulsa is the second-largest city in the state of Oklahoma. It has a great median home price, very low unemployment and although once heavily dependent on the oil industry, diversification efforts created an economic base in the energy, finance, aviation, telecommunications and technology. Tulsa has a variety of museums, theater, and concert groups, including the Tulsa Ballet, the Tulsa Opera, the Tulsa Symphony Orchestra, Light Opera Oklahoma, Signature Symphony at TCC, the Tulsa Youth Symphony, the Heller Theatre, American Theatre Company, and Theatre Tulsa. Plus there is  the Tulsa Zoo, which was voted "America's Favorite Zoo" in 2005, the Tulsa State Fair, and the city's Oktoberfest celebration. Tulsa also has a variety of sports teams including Basketball, Baseball, Soccer, Football, Roller Derby, Rugby and even Ice Hockey.
Number 5- Riverside, CA
It may be surprising to find a California city on a list of affordable cities. And with a median home price of $245,400 it is the most expensive on this list but according to Forbes it is one of the "coolest" cities in the nation. So if you are willing to pay a bit more for "cool" Riverside might be the place for you.
Number 6- Chandler, AZ

Although you might not recognize the name Chandler you are probably more familiar with its neighbor Phoenix. Chandler is noted for its annual Ostrich Festival, the Arizona Railway Museum, and being so close to Phoenix it has easy access to all the amenities of a Capital City as well. Median home pricing is at the top end of our spectrum but still moderate by nationwide standards. Unemployment is low and the weather is dry which many retirees prefer.
Number 7- Amarillo, TX

Amarillo has astonishingly low unemployment combined with very low median home prices. Like Chandler, the weather is hot and dry and is located in the Texas Panhandle. Amarillo has a number of natural attractions near the city. The Palo Duro Canyon State Park is the United States' second largest canyon system, after the Grand Canyon. Amarillo has some interesting rock formations called hoodoo including one that resembles a lighthouse. The city has events and attractions honoring the cowboy and Texas culture. There is also the Amarillo Opera, Amarillo Symphony, and the Lone Star Ballet. There is also the Lone Star Football League team Amarillo Venom and the NAHL Jr. A hockey team, the Amarillo Bulls.
Number 8- Reno, NV

Housing is not the cheapest in Reno but it is still quite reasonable with a median home price of $200,400. Unemployment is currently a bit high but that is set to change with Tesla's gigafactory is sparking a massive resurgence in Nevada. See Forget Vegas, Nevada Is Now About Reno And Lithium. Reno also has many cultural attractions including: the Nevada Museum of Art, Nevada Opera, Nevada Shakespeare Company, Pioneer Center for the Performing Arts, Reno Philharmonic Orchestra, Reno Pops Orchestra. Plus there is the National Automobile Museum, the Nevada Museum of Art, and the University of Nevada, Reno Arboretum. The city has 300 days of sunshine per year with only 7.48 inches of Annual rainfall due to the mountains to the West which block the rain but also moderate the high temps of summer.
Number 9- Tacoma, WA

With a median home price of $197,000 Tacoma is reasonable for the West Coast. It is not far from Microsoft's headquarters in Redmond. It hosts the Museum of Glass, several performing arts organizations, the Tacoma Film Festival, several seasonal farmers markets, and Baseball, Football, Basketball and Soccer teams.
Number 10- Boise, ID
Not to be confused with Iowa, Boise Idaho features a low median home price, low unemployment and is once again the Capital of the State. Boise features a number of outdoor recreational opportunities including extensive hiking, biking, fishing, swimming and rafting. There is also  Zoo Boise, which has over 200 animals representing over 80 species from around the world and the Idaho Aquarium. Professional sports teams include the Boise Hawks (minor league baseball), the Idaho Steelheads (minor league hockey), the Idaho Stampede (minor league basketball), and the Treasure Valley Spartans (semi-pro football). Boise is also home to an all-female, flat track roller derby league.