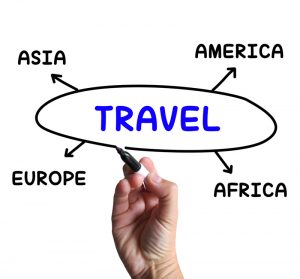 Everyone wants to travel more but how much does it really cost? Well, perhaps it is actually cheaper than you might expect. The problem of course is that you still have all your "fixed costs" at home i.e. taxes, mortgage (or rent), insurance, utilities, etc. But what if you sell your house first? That is exactly what we did and here is how much our first month of travel cost us.
The Adventure Begins
We sold our house in mid-December and after spending the Holidays with family we left Richmond, VA for Florida intending to scout out the northern half of Florida for a potential new home. So after packing the car we set out on I-95 South. This 600 mile trek according to MapQuest is supposed to take just under 9 hours of driving time. Unfortunately, as we entered Brunswick, GA we decided to stop for a bite to eat and while changing lanes to enter the Cracker Barrel something in the roadway cut a 3 inch gash in our tire sidewall.
Unexpected Expenses-
After checking with two different tire shops we discovered that the 19″ tires on our Ford Escape are not readily available in most tire shops in Brunswick. So after putting on the spare, we made an unscheduled stop at a Motel in Brunswick.
The next morning we decided to continue to Jacksonville and look for a tire there. We found that Pep Boys was one of the few places in the entire city that carried our size tire and actually only one had them in stock. But when we arrived at the closest Pep Boys we found that only one  of their several stores had them.  So we drove to that store and spent an hour there while they replaced the tire, rotated the new one to the rear and returned the spare to the storage compartment.
Did I mention that these tires are rare? And obviously very expensive! Cost $349.84
The next day several of the dash lights came on and we discovered that Ford recommends changing tires in pairs on All-Wheel- Drive vehicles. So we returned to Pep Boys and spent another $349.84 for a matching tire to replace a perfectly good tire. Unfortunately, that did not resolve the the warning light issue. So the next day we made an appointment with the local Ford dealer to have the check engine lights checked. Apparently, two of the sensors had gone bad. So we made another appointment to have the two sensors changed (they weren't in stock so we had to wait until they arrived the next day). Fortunately, we weren't in any hurry to leave Jacksonville since it was the first stop on our tour of Florida. Cost for two sensors $60. Cost for installing two sensors $334.95.  Total cost for two tires and two sensors $1,094.63.
Note: These are not the tire pressure sensors inside the tires but rather two entirely different sensors related to tire rotational speed and "hill start assist".   Lesson: Always have an emergency fund to handle unexpected expenses.
Lodging-
Over the first month we only stayed in a motel 2 nights. The first night was in Brunswick, GA and the second was our first night in Orlando. Because we have a Wyndham Rewards Visa card we saved $30 on one night of lodging so the two nights only cost us $96.31. We have been charging all of our expenses on this new Credit Card so that we will continue to accrue points to reduce our future lodging costs.
We spent three nights with a friend and the remaining nights we stayed at AirBnB houses. We found AirBnB to be considerably cheaper than motels and generally a more pleasant experience. Some of the houses we stayed at had pools and hot tubs, one allowed us to use their "home theater" which had 2 theater seats a big screen TV. Some of the houses were ordinary, some were very nice. Many of the hosts will allow you to use their washer and dryer thus saving us more money compared to having to go to a Laundromat.
Costs of AirBnB
The hosts charge a basic per night fee plus local Taxes and a "Service Fee" that goes to AirBnB itself. AirBnB hosts often charge a one time "Cleaning Fee" for cleaning up after you leave.  So if the cleaning fee is $20 and you stay one night the fee adds $20 to your night's cost. But if you stay 4 nights the cost per night is only $5. In addition, many hosts offer weekly and/or monthly discounts, some as much as 50% off.  The app is easy to use and allows you to search by location and price. Many hosts offer perks like breakfast, snacks, use of their stuff, advice on local things to do, etc.
Total cost of AirBnB = $1,347  Total lodging = $96.31 + $1347 =$1,443.31
Gas & Entertainment
Since we spent most of our time driving, i.e. checking out neighborhoods that we might want to live in, we spent much more on gas than we would have had this been a destination "vacation". But then we spent a lot less on entertainment than we would have had we just gone to Disney.  We spent a total of $14 on recreation visiting a historic plantation. But we spent $278.35 on gas, driving about 3,800 miles which could have been much higher, but we get fairly good gas mileage. Gas and Entertainment = $14+$278.35 = $292.35
Food
Food can be expensive when you eat out all the time. For breakfast I usually had Oatmeal which I made from regular Oatmeal (not the instant packaged kind) so it cost a couple of dollars for the entire month. My wife Lisa generally drinks a single High Protein "Boost" which costs a little over a dollar each. We found that eating our main mean in the afternoon generally was cheaper since many restaurants offer discounted lunch portions. Then for supper we ate at either fast food (which is always the same price) or we ate leftovers or we fixed something at one of the AirBnB's since many would allow us to use their kitchen. We also brought our own super cooking device called  an Instant Pot. This amazing device is a programmable cooker that is both pressure cooker and crock pot. But it is also much more. It will cook perfect rice, fantastic boiled eggs, and even has a Yogurt maker function. People have made almost anything in it from Cheese Cake to Squash. It is so amazing it has its own Facebook group of rabid fans.  So all-in-all we spent $817.05 on Food and Restaurants. We could have spent less if we had cooked more.
Storage
Before we left Richmond we put all of our stuff in storage this has eliminated all our other expenses for rent, insurance and taxes but does cost us $303.50 per month in storage fees.
Totals: 
Two tires and two sensors $1,094.63
Total lodging = $96.31 + $1347 =$1,443.31
Total Gas =$278.35
Total Food and Restaurants = $817.05
Storage Fees = $303.50
Entertainment = $14
Total for One Month of Travel = $3,950.84
Of course this would have been much less if we didn't have the tire emergency, so we are hoping that next month will be much less. So by eliminating our ongoing costs for housing and taxes etc, we were able to travel full time for about what it cost us to live at home.
If you'd like to rent out a room to raise extra cash or save money on your travel you can open an account with AirBnB. Plus if you follow this link you can save money on your first reservation… and we will get a credit too 🙂
You Might Also Like: