Buying a home is probably the largest purchase of your entire lifetime and one single mistake can easily cost you tens of thousands of dollars. The word Caveat means "Let him beware" in Latin and it is important to remember these Caveats when buying your first home.
If you are in the market for your first home, you're probably excited about the prospect of no long living with relatives or no longer making your landlord rich by paying his mortgage. However, there are many other issues that you should consider when selecting a property. For instance, you want to make sure that the house is in a nice area close to things that you like or need. What else should you be looking out for?
Caveat #1: Take the Total Cost into Consideration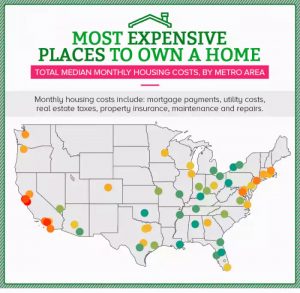 Owning a house costs much more than just the purchase price. You need to look at more than just the list price of the house when determining if you can afford it. Other costs to look at include property taxes, insurance on the house and private mortgage insurance if necessary. It is also worthwhile to know how much you may need to spend on maintenance projects.
Angie's list has developed a Home Cost Calculator to help you figure out how much it will really cost. And because this depends on where your house is located (since each city has different tax structures) the calculator even takes location into consideration.
Caveat #2: Location
Everyone has heard the old saying, "What are the 3 most important things to consider when buying a home? Location, Location, Location."  In other words it is not only the first most important thing to consider but also the 2nd and 3rd.  This is generally applied to mean choosing an expensive neighborhood improves your chances of appreciation over choosing a cheap neighborhood. But expensive neighborhoods are not only expensive to buy but also more expensive to maintain.
But in addition to choosing a neighborhood within a city, location also plays a part in choosing which city to live in. Angie's List has also produced an infographic showing the most expensive places in the United States to live… and not surprisingly the top 6 most expensive places are all in California. Next comes the Northeast… from Boston down to D.C.
Caveat #3: Type of Mortgage
There are many mortgage products available for buyers with low incomes, low credit scores or who don't have the money for a down payment. Generally, you need at least 20 percent down to get a home loan, but government loans such as the USDA or FHA loan may require a downpayment of 3 percent or less. They may also waive or stretch debt-to-income ratio limits as well.
The Home Buying Institute lists the following types of mortgages.
Fixed vs. Adjustable Rate (Interest Rate Options)
Government-Insured vs. Conventional Loans (Backing Options)

FHA Loans
VA Loans
USDA / RHS Loans

Jumbo vs. Conforming Loan (Size Options)
Caveat #4: Working with a Real Estate Agent, Lawyer and Title Insurance
Buying a home can be a complex process especially for newbies. Real Estate agents can help you avoid pitfalls and even save you money by negotiating a better deal for you.  In addition to helping her clients save money on the purchase, Colleen Pye of  The Pye Team recommends that you also get a Home Warranty which will help you avoid any surprise maintenance costs for the first year. Colleen mentions two instances where a home warranty helped her clients avoid an $1,800 and a $1,500 dollar surprise respectively.
An agent will be there to help you find an affordable property in an area that you like. He or she can also help you when it comes time to make an offer or if there are any issues with the seller before the deal closes. Since laws vary from state to state, be sure to check to see who the Agent is working for contractually. In most places your agent is responsible for looking out for your best interests and the seller's agent is responsible for looking out for their best interests. But remember all agents want to make a sale because that is in their best interests so sometimes they have difficulty putting your interests above their own. So be especially wary if they are pushing a house that they listed. In that case they would make twice the commission…
A real estate attorney is equipped to prepare and review documents relating to real estate such as purchase agreements, mortgage documents, title documents and transfer documents. Real estate attorneys also often handle a closing on a purchase.
Title Insurance protects you against a variety of problems that can arise with the ownership of the house and property. You might think that once you buy a house your worries about ownership are over. But a variety of problems can be hidden in the paperwork. For instance, I recently looked at a house that had a deck that was built over the the property line. In a case like that your neighbor could force you to tear down the deck because it was really on their property. Title insurance would protect you. It will also protect you if the seller didn't disclose that there were other heirs entitled to a share of the proceeds or rights of divorced parties, gaps in the chain of title, or forged deeds, mortgages, wills, releases of mortgages and other instruments, etc.
Caveat #5: An Existing Lease
A lease is a contract. If you have a lease, you must honor it even after you buy a home. Therefore, it is a good idea to close on your home purchase at some point after you make your final rent payment. This gives you a period of several days or weeks to make a transition without having to make both a lease and a mortgage payment.
When you buy a home, you commit to it for the next several years of your life. Therefore, it needs to be something that you can afford and a place where you enjoy spending time. With the help of your real estate agent and mortgage broker, you can find a property and a loan that fits your needs and stays within your budget.
You might also like:
Resources for First Time Home Buyers from Amazon: