The simple fact is that debt equals stress, especially when that debt keeps growing. Even when you feel that there is no possible solution to your current debt situation, don't lose hope. Options are available to help you to keep the debt from growing and to get yourself in a better financial position. Here's what you need to know:
Step #1- Stop Accumulating New Debt
Don't give up! Surrendering is one of the worst steps that you can take. You may think that you might as well keep spending since you already have so much debt and there is no way you could possibly get out. This thought process could keep you in debt for years or even decades longer. Instead, keep one credit card on you for emergencies. Leave the other ones at home. Some people will even freeze their cards in a block of ice or cut up their credit cards, rendering them difficult or impossible to use.
Step #2- Follow the Snowball Method
Many experts suggest that you pay off the debt with the largest interest rate first  but with the snowball method, as developed by Dave Ramsey, you approach the problem a bit differently. This system provides you with a reasonable method for paying off your current debt. To get started with this method, you need to tally all of your debts. For all of them except one, you pay the minimum amount each month. For the smallest bill, put any extra money that you can toward it. Once you have finished paying off that bill, you should move on to the debt with the next smallest amount putting the amount from the first bill toward it in addition to the minimum that you have been paying plus any other money you can spare.
Dave Ramsey gives this example: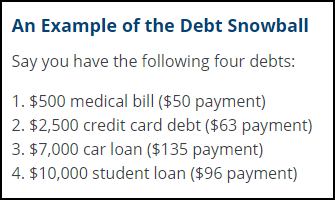 In this example you would work your hardest to eliminate the $500 medical bill because it is the smallest and thus it can be paid off the quickest. Once it is paid off you can take the $50 that used to go toward the medical bill and put it towards paying off the credit card debt. So now rather than paying $63/month you will be able to pay $63+$50 which will result in
[Continue reading]