This being prime vacation season I thought I'd tell you a bit about my vacation. On Monday I set out from Virginia on my way to a week on the coast of South Carolina. Fortunately for us the sharks are hanging out a few hundred miles North of here. The weather is beautiful and the water is warm and inviting.
But like most tourist areas it seems that everything is designed to separate the hapless traveler from his hard earned money. But being a die-hard "frugalista" I've worked out a system to keep my money where it belongs i.e. in MY pocket.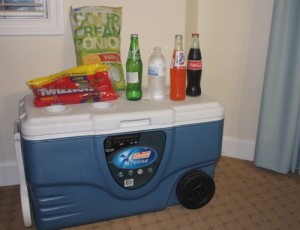 First of all, before we left home we visited our local Walmart and Sam's. While there, we stocked up on snacks for the trip, bottles of soda for the cooler and a couple of Nautica Beach chairs. So rather than paying $1.50 for a package of NABS or a 1 oz bag of chips I spent pennies on the dollar and all I had to do was turn around and grab one while driving rather than stopping.
We also [Continue reading]