Recently we've been discussing bankruptcy but in the U.K. there is an alternative called an Individual Voluntary Arrangement or "IVA" which is a formal alternative for individuals wishing to avoid bankruptcy. Basically it is a structured repayment plan which may allow partial foregiveness of your debt.
How an IVA Works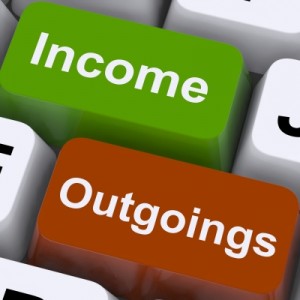 The debtor's income (A) and expenditures (B) are analyzed and the debtor's disposable income is calculated (A)-(B). This becomes the amount that will be paid into the IVA periodically (usually monthly). The period is usually five years, but can be any length. The proposal will usually state that if the disposable income increases during the term of the IVA, the amount to be paid will also increase proportionately.
Your IVA will probably last for five or six years depending on whether you have a property and other factors. Over that time, your financial circumstances may change, often quite substantially. So some people find that their living costs have increased and so they are struggling to afford the IVA payments. But it's also possible that an IVA client finds themselves with extra cash as their IVA progresses.
Whether you are promoted at work, inherit money or simply learn to live on a lower budget, you may find yourself better off than you expected. Over the course of your IVA, your house may also increase in value, and you could have the option of releasing some equity.
You might therefore find yourself in a position to make an overpayment.
Overpaying a Small Amount
If you find yourself with a small amount of extra cash, your Insolvency Practitioner will work with you to determine whether you must make a one-off overpayment in addition to your monthly instalment. Sometimes you'll be forced to part with some of the extra cash; sometimes you won't.
Overpaying a Lump Sum
If the lump sum you contribute is less than the full amount of your debts, it's still an opportunity for you to end your IVA early. Ask your Insolvency Practitioner or Supervisor if you can negotiate settlement based on the amount you have available.
If you're in a position to make a lump sum repayment, things are a little more complex, but you may be in the fortunate position of ending your IVA early. Firstly, remember that you will be required to pay the whole lump sum towards your IVA, even if the amount you pay exceeds the original amount you were asked to repay. (Don't worry; you will never be asked to repay more than the total amount you owed originally, plus fees).
The figure they come up with may be higher or lower than the original repayment amount for the IVA and will be lower than your original debt, so you'll still end up repaying less than you originally owed and your creditors will be pleased to see the end of the matter. Lenders really like to get some money back, even if it's not everything, so they will probably look favourably on your request.
Once your IVA is settled, you will be able to cease monthly repayments and start rebuilding your credit rating sooner than you expected.
More IVA Information
Confused about IVAs? Need advice about problem debts? Try the Varden Nuttall Limited IVA test now.
See Also:
Recommended by Amazon:
Image courtesy of Stuart Miles / FreeDigitalPhotos.net