Having adequate homeowner's insurance is important because it will cover you if something happens to your home/belongings. Having appropriate coverage when you buy your home can give you peace of mind and protect your investment. For example, dog bite injuries are common and happen more often than you think. And as a homeowner you are liable for any injury your dog causes.
Believe it or not, according to GenRe Research there are about 16,000 dog bite claims a year and the average claim is for $26,000… costing insurance companies a whopping $412 million a year. So if you own a dog you should  be sure that you are covered so you won't be liable for a claim against you. It's the same if you live in an earthquake-prone area, or a home near the ocean – staying insured for all possible situations will make sure you're safe physically and financially.
But what about buying a policy? Can you save money on it? What you pay for homeowner's insurance depends on the insurance company you're dealing with, which is why the price for it can vary greatly.
#1: Shop Around for Insurance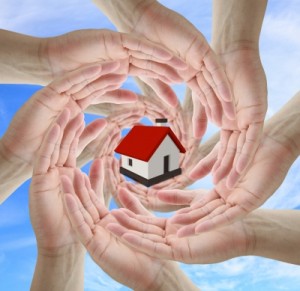 Shopping around can cost you some time but in the end it can save you a lot of money. Start by asking your friends and family and getting quotes online. In addition to this you can also check with local insurance agents and browse through consumer guides to find the best deal. This will not only give you an idea of price ranges but will also let you know about insurance companies that offer the most affordable prices.
#2: Raise the Deductible
According to the terms of your policy, deductibles are nothing but the amount of money you will be paying towards a loss before the insurance company begins to pay a claim. Now what you need to understand here is that the higher your deductible is, the more money you will be saving on premiums. Most of the insurance companies today recommend you to have a deductible of minimum $500. However, if you can manage to raise your deductible to $1000 or even $2000 it could help you save up to 25 percent of your annual insurance bill. Of course then you are on the hook for an extra $500 -$1500 if you have a claim… but how often do you have a claim?
#3: Make Your Home More Resistant to Disasters
Talk to your insurance company representative or agent to find out what kind of steps you can take to make your home much more resistant to natural disasters like windstorms. It is possible to save on your premiums by reinforcing your roof, adding storm shutters, etc. If your home is old then you might retrofit it to make it more sturdy so that it's able to withstand earthquakes but that will probably be expensive. But even small things like installing smoke detectors, security alarms and deadbolt locks can have an effect on your insurance rates. Also proximity to fire hydrants and fire stations can help lower your insurance bill so be sure your agent knows how close these features are.
#4: Insurance Loyalty Pays
Keeping your coverage with a single insurance company for a long period of time may entitle you to special discounts for being a loyal, long term insurance policy holder. For example, some insurers out there will happily bring down their premiums by five percent if you stick with them for 3-5 years, and by ten percent if you stay with them for 6 or more years. But see to it that you compare this price from time to time with the prices of other policies out there. Also by bundling all your insurance together like homeowners, auto, life, etc. most insurance companies will give you an additional quantity discount.
These are just a few tips to lower your homeowners insurance costs. Can you think of other ways you can lower your insurance bill? Please comment below.
See Also:
Image courtesy of Vichaya Kiatying-Angsulee / FreeDigitalPhotos.net