When moving day comes you want to have a systematic process in place so that your belongings are loaded and later unloaded without any hitches. But you should also consider the costs involved with moving and the ways you can save money and time just by taking care of a few small details. Here are three mistakes to avoid that can save you money and make your moving day preparation go smoother.
Not Getting Rid Of Unneeded Items
The fewer items and less weight you have moved, the cheaper your move will be. Sometimes you need to be willing to part with items that have sentimental value if you really don't need them. But even if you don't have such items, you should see which belongings you can sell in a moving garage sale or online. Even if you don't manage to sell those items, you can still save money by giving them to a charity organization and write them off on your IRS forms when you file taxes.
Boxes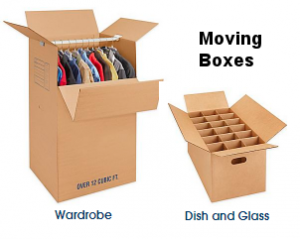 It will always take many more boxes than you think it will. Get two or even three times more boxes and tape than you think you will need. Using standard sized moving boxes makes stacking much easier since you don't have odd sized holes. But boxes are expensive. You can get free boxes if money is tight. Most stores crush them and toss them in a dumpster out back.  The trick is to find the ones where they don't slice the tops off. Often liquor stores have good strong boxes because bottles are heavy. If you are going to collect boxes rather than buy them start collecting early and store them flat. Sometimes you can get used moving boxes from U-Haul's Box exchange for free. This way you might even get all the cool specialty boxes like Wardrobe and Glasses for free. If not they might be worth the extra to buy some of these.
Speaking of boxes there are lots of places selling moving boxes these days U-Haul is just one, you can also get them from the "Big Box" Home Centers, most storage centers, moving companies like Bekins Van Lines Inc and a company called Uline that specializes in shipping and storage supplies, which offers great quantity prices and will ship a pallet full of boxes right to your door.
Moving At The Wrong Time
Did you know the time of the week and even the time of year you choose to move during can make a difference? Understandably moving times are not always flexible because of job demands and other reasons that may leave movers little choice for when they can move. But if you do have flexibility in your moving dates, you should avoid moving in the early summer and on the weekends because those are popular times when moving company rates will often be a lot more expensive. Moving in the winter on weekdays can be a colder task, but if you do it right you usually will save some money.
Having The Moving Company Box All Your Items
It's great to hire a professional moving company to pack and move your items because they not only can do it quickly, most companies also offer insurance plans to make sure your valuable items are not broken. But you don't have to have them box everything. For regular items that you can box yourself, moving companies will usually let you do that while they pack only the items you want them to. Doing this will usually knock a little off the final moving price.
These savings tips can help you have more in the bank to pay the moving company. Prior to moving day, you can have this business all taken care of and your home ready for the movers to arrive. Professional movers are always the best route to go when your time is short and you need everything done right.
You Might Also Like: